Hunt and Slay Your ?Bucket-List Boar? in 3 Days or Less, even if you have Never Hunted Boar Before!
Your Authentic Boar Hunting Adventure in the USA.
If you are even remotely interested in Hunting, or just Love the Taste of Bacon, please read on...
This adventure is for the Hunter who has always dreamed of pursuing and slaying a genuine Boar, but does not want to spend the time or money traveling out of the USA.
When you enter the Great Northern Forest you will discover the Boar's Native Habitat, Natural Environment. Here your will hunt the Black Forest and encounter a primordial Beast of Prey.
If You Hunt Him… He just might be Hunting you Back!
Hunting at Bear Mountain is a unique and special hunting adventure unlike any other in North America, because You will Hunt in the Heart of the North American Wilderness located in Upper Michigan. You will be just a few miles from the Shore of Lake Superior, the worlds largest Fresh Water Lake.?
Do to the sheer size of the "Big Lake",? Lake Superior is the Dominating Climatic Factor that creates this Unique Hunting Adventure unlike any other in all of North America.
Wild Boar inhabit the Northern most reaches of Europe and Asia. These "Ice Age" Beasts have the thick shaggy coats with long guard hairs combining with a dense wool under coat giving them that prehistoric look.
True Tanks of the North, the Boar is High Game throughout Europe, but You can now Hunt this Beast in the United States.?Here in the dark and shaded areas is a legendary Beast that is extremely challenging to pursue and very rewarding to slay.
Going Head-to-Head with the Raging Boars of Bear Mountain is a dream come true!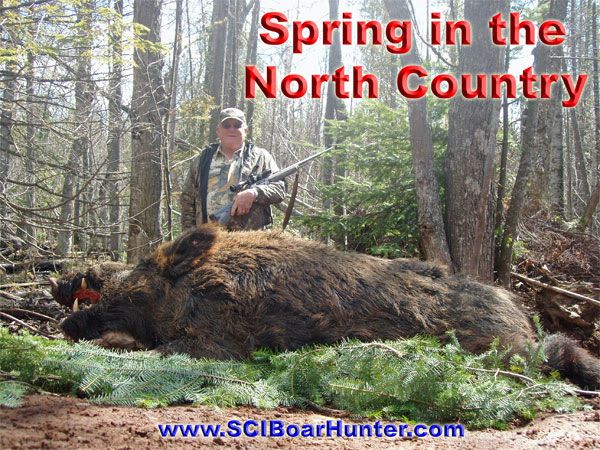 Morning at the edge of the Forest. What a great place to ambush your Boar. Many of the Bigger Boars are less cautious while returning to their Lair after a night of fighting, feeding and fooling around with the receptive sows. Much of the Boars position in the Herd is maintained by being overly aggressive.
So caution plays into your hunt.Enter the Forest and Face the Beast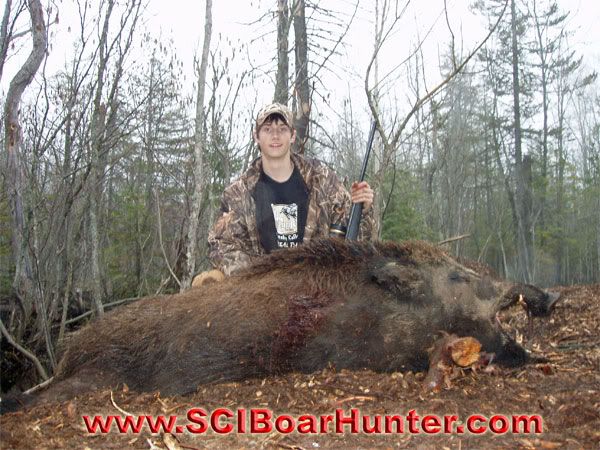 Cruising deep into the center of Bear Mountain you enter the lowlands areas which are compose primarily of evergreens including Black Spruce, Cedar, Balsam Fir and tag alders. Many of the shots are up close and personal. It iscritical to have the plenty of stopping power when encountering the beast on his own turf.
Choose Your Weapon and Choose it Wisely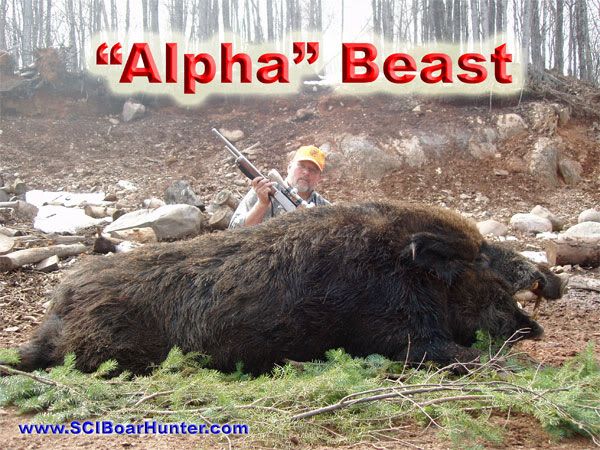 You may bring your own Weapon, or choose one from the Vault. Cruise the upland hardwoods in search of your Bucket-List Boar. The shots are typically within 50 yards and shots of less than 30 yards are not uncommon.
A long shot would be 80 yards.
Bow Hunters are the real Killers – Guns are to easy!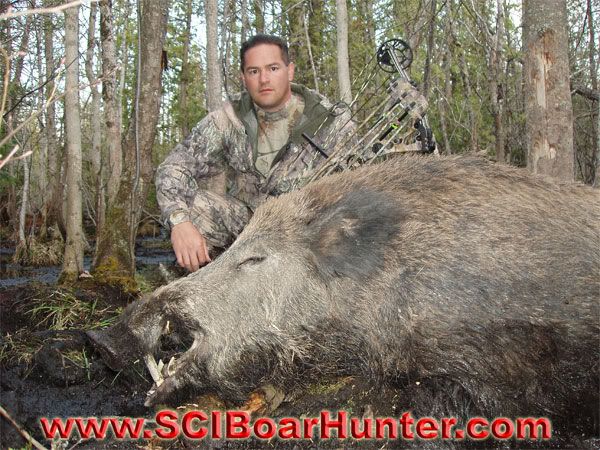 Your Guide will work with you to set up different Hunting Scenarios based on your personal interests and desires, the size of your Hunt team, the experience levels, and everyones physical capabilities. All ages are welcome.
Hunting Styles depend on your preferences.?There is nothing more impressive then a Trophy Pole hanging high with the days Harvest.?It is especially satisfying when you Hunt the Beast on your own terms.
Spring Boar Hunting Styles at Bear Mountain
Experience a wide array of hunting styles through your Hunting Adventure including:
-Traditional Spot & Stalk
-Classic Ambush?-Super
-Slow Still Hunting
-Extreme Jump Shooting
-European Driven Hunts
-Ground Blinds
-Elevated Stands
Choose whats Best for you!
---
"Alpha Beast"
For the Hunter who seeks the Biggest, Baddest Beast.
"Alpha" Beast"
Approximate Age upwards of 4 to 5 years
Weights in excess of 300 to 400 lbs are not uncommon
This is the "Alpha" Beast – He is the Dominant Breeder Boar
This Beast Makes the Best Boar Bacon
Massive Beast and makes a World Class, "Life" Size Mount
Rules the Northern Forest and He Will Hunt You Back
For he who has to have the Biggest Boar, Period
---
Trophy Class Boars
North America's Number One Boar Hunt for the Past 15 years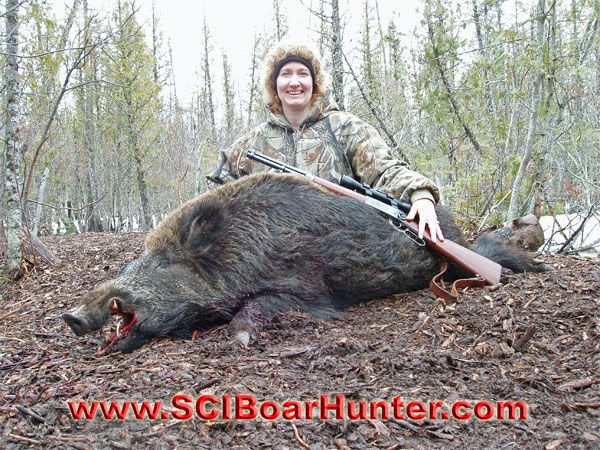 Trophy Boars are exciting and challenging to Hunt.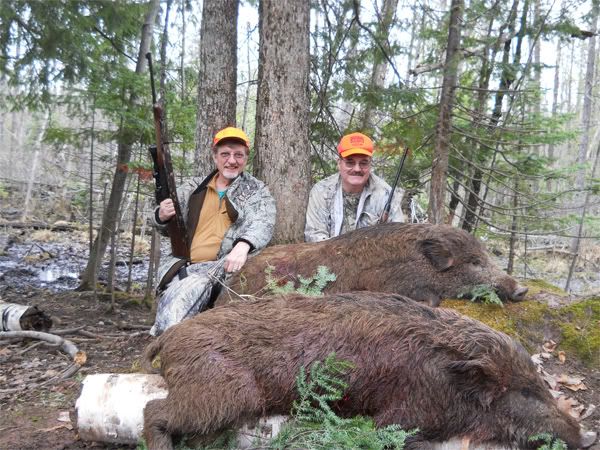 Trophy Boar
Approximate Age upwards of 2 to 3 years
Excellent Eating, average weight of (180 – 250) pounds
Representative of the Species – genuine Boar
Makes an impressive Shoulder Mount
This Boar is a "Solid" Beast, that is fun and exciting to Hunt
Classic "Trophy Boar" is the #1 Seller for the past 15 years
For those Looking for the Best Value in a Boar Hunt
---
Bear Mountain Boars are the Best-of-the-Best when it comes to Fine Dining.
Luxury Restaurants around the World Offer "Wild Boar" as top billing on their Menus. Lean Red Meat that is Healthy for You.
You can Create Your own World Class Dining by? Harvesting one of the Bear Mountain Boars. Invite your friends and family over for the Grilling and Thrilling as you tell one story after another of how you survived your adventures going Head to Head with the Raging Boars .
Since the dawn of time the Wild Boar has been the most sought after lean red meat on the planet.?
?Wild Boar are the Worlds Number 1 Game Animal of All Times
---
Hunt the Raging Boars and Stay at Bear Mountain Lodge for Free
See the Three Bonuses Below
Plan on staying as my personal Guest for 3 Days & 2 Nights as you Pursue and Slay Your "Bucket List" Boar
---
Bonus #1?-?Free Lodging
?When you Hunt Boar this Spring at Bear Mountain Lodge I am including your Lodging for 3 Days and 2 Nights – No Charge
---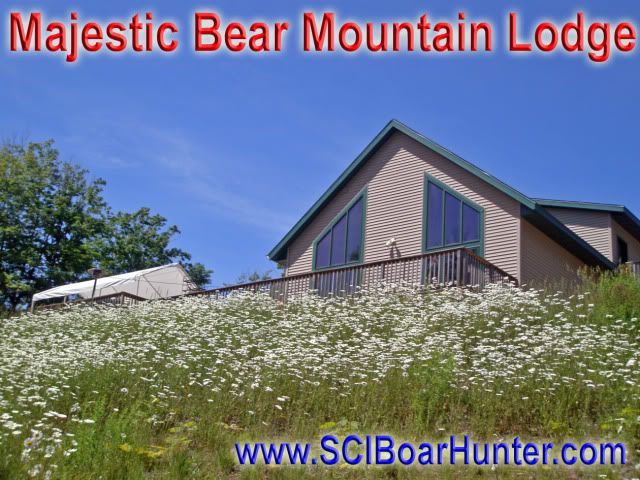 ---
?Bonus #2?- Free Dinning
In addition to the Free Lodging Bonus I am Including all your Meals, Snacks and n/a Drinks – No Charge
---
---
Bonus?#3? ?Spring Discount!
---
For a limited time I am including a Seasonal Discount off of the Standard Rates this applies to the Spring Hunts that are still available… This is a Limited Time Offer for Spring Season.
Greg "Moose Man" Johnson
PS – Take Action Now Signup and Get Your Spring Hunt
Bonuses
Bonus #1?Complimentary Lodging Bear Mountain Lodge
Bonus #2?Complimentary Meals, Snacks and n/a Drinks
Bonus #3

?
Spring Season Discount