fname],
Any Day You Hunt Bears Does Not Count Against Your Life...
Last time we talked Summer was wrapping up and the Sport Fishing was coming to a close…
Bear Season was opening and Yes it is True Big Prehistoric Cave Bears were Roaming Upper Michigan.
Journey North into the Dark Forest and see who is building "Extra Credit", so when their time comes to enter the "Happy Hunting Grounds"… They will enter as a Welcome Guest…
Please enjoy a few of the Great Bears that were taken in 2015.
---
The Magic of Darkness – 1st Bear 2015
---
Bear Hunting "Tops Off" the Summer in the Great Northern Forest. The Bears are on the go and are cruising the forest looking to add those precious few pounds of fat to help them make it through the long hard winter ahead.
---
Pre Cambrian Shield Bedrock makes for Winter Den Sites
---
Walking into an ambush site you may pass the Caves that will house next winters hibernating Bears, this is cool.
However walking out from an ambush site and passing by a potential Bear's Den through the dark of the night, adds a little extra excitement and thrill to the Hunt.
You just never know what is there in the dark and shaded recesses of the night…
That might send a little chill down your spine.
---
Not all the Bears are Shot
"just before" Dark
---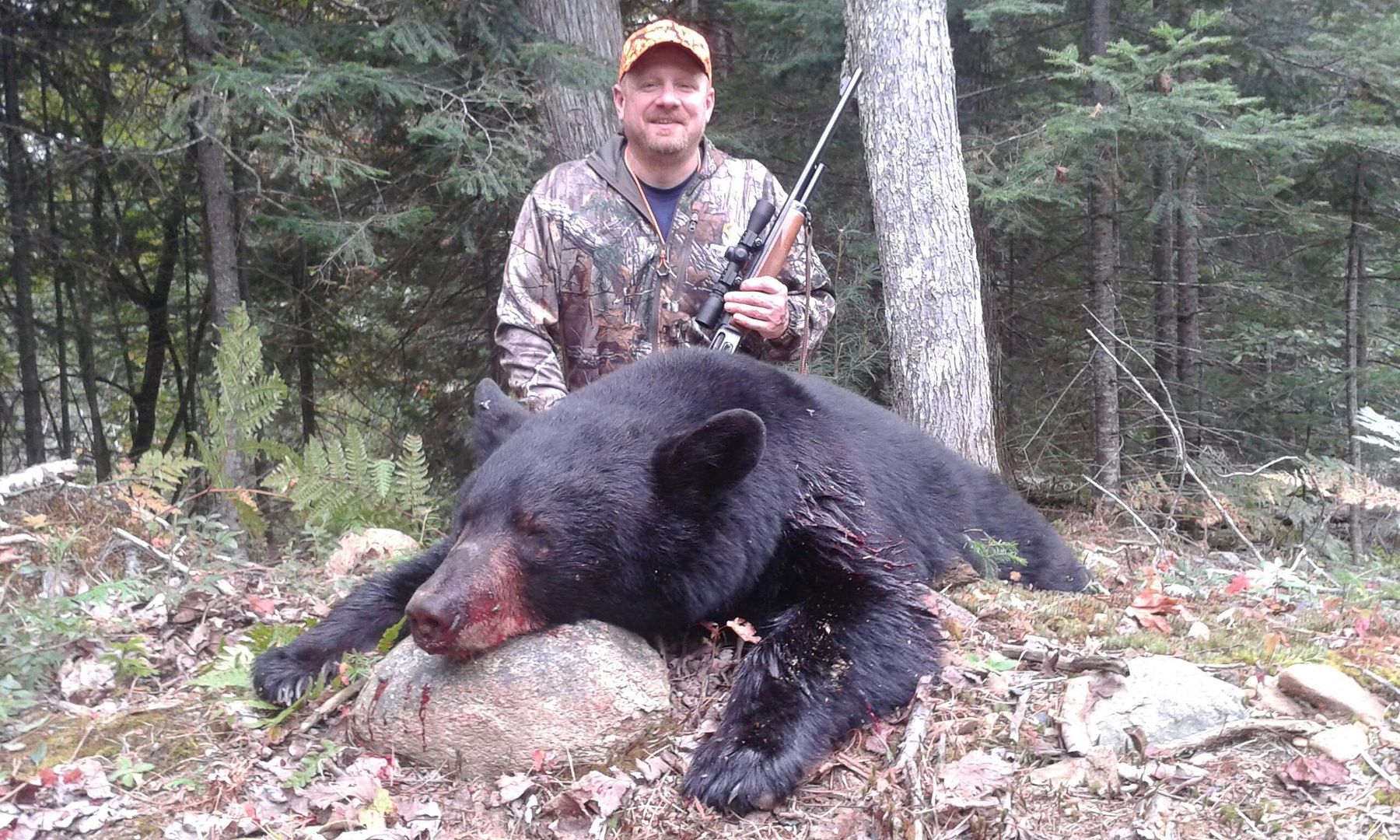 Hunting Bears in Upper Michigan is typically a evening Hunt. There are plenty of activities to conduct before you go into the Stand…
However, it is important to get into your stand in the early afternoon, as the Bears become more active in the day light hours, as the cold arctic winds race down from the North.
That cool wind explains that chill you felt going down your spine on the walk out the night before.
---
"Systems and Process"
make for a
Great Bear Hunt
---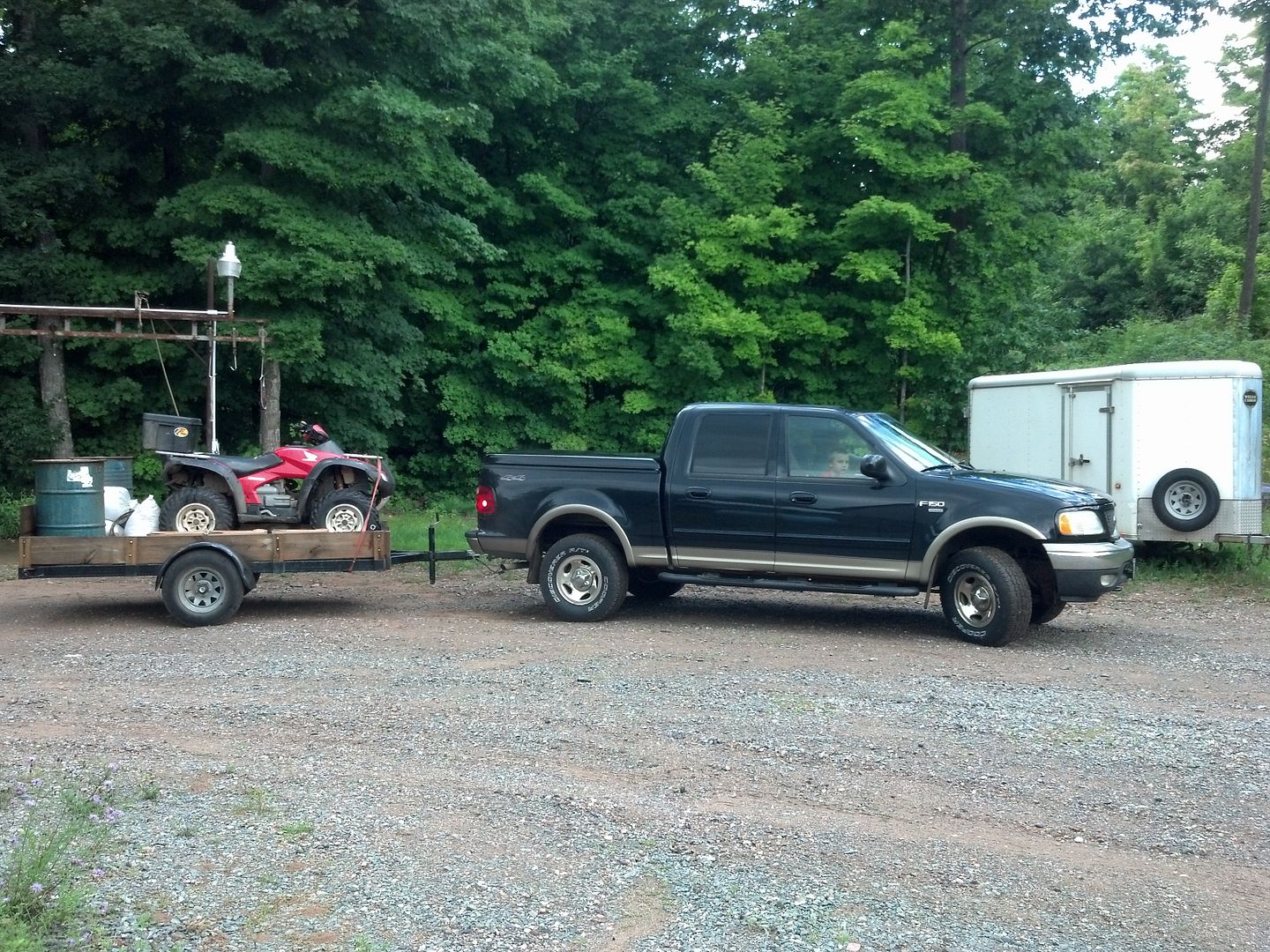 Bear Hunting on Private Property allows for specific benefits you won't find on public land.
Roadways, ATV trails, Barrels, etc. Derek handles the ambush sites, (Blinds, Stands, Bait, etc.)
Michigan requires a tag to be drawn through a lottery system. This is conducted each spring.
You can build preference points, so you can better plan your fall hunting adventures.
---
Wheel Guns – Up Close and Personal
---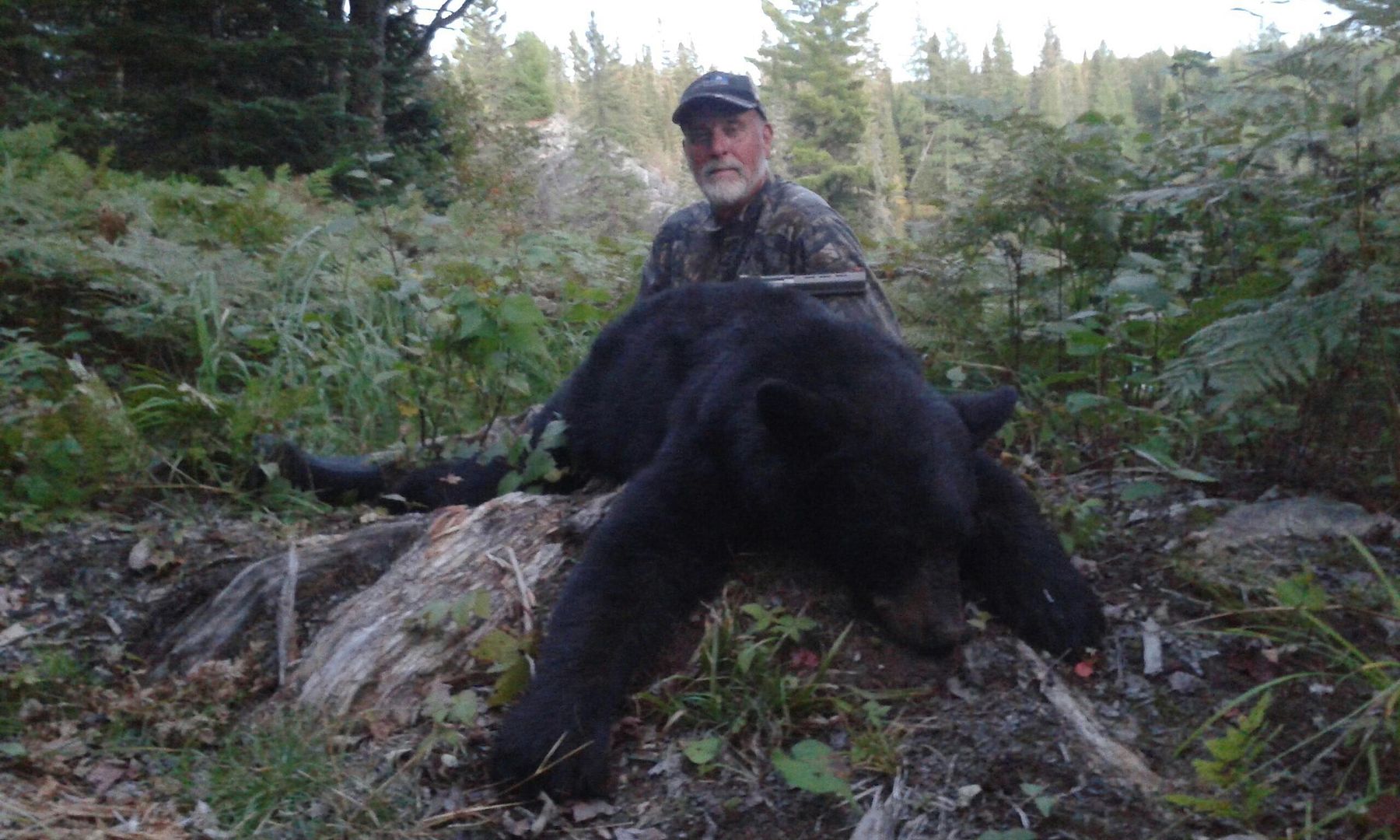 Your Choice of Weapons, Rifle, Shot Gun, Brush Buster, Crossbow, Compound Bow and of course a big Ole Wheel Gun, which is a great way to harvest your Bear.
---
Yes, a Bear Has Been Here
---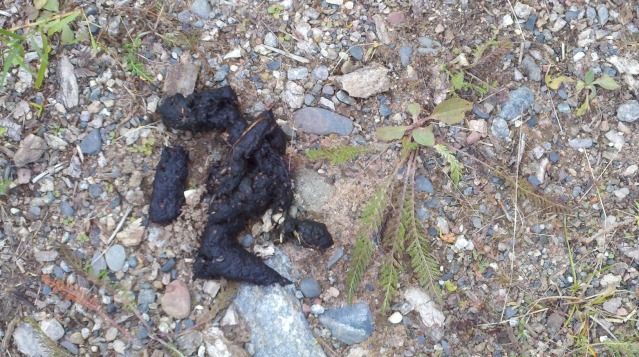 Bears really need a lot of berries, sugar and sweets to turn into fat for the long hard winter a head.
It is amazing how much fun and excitement there is when you encounter Bear Poop when you have a Bear Tag in your pocket.
---
What is it about those Bears that draw Hunters into the Great Norther Forest?
---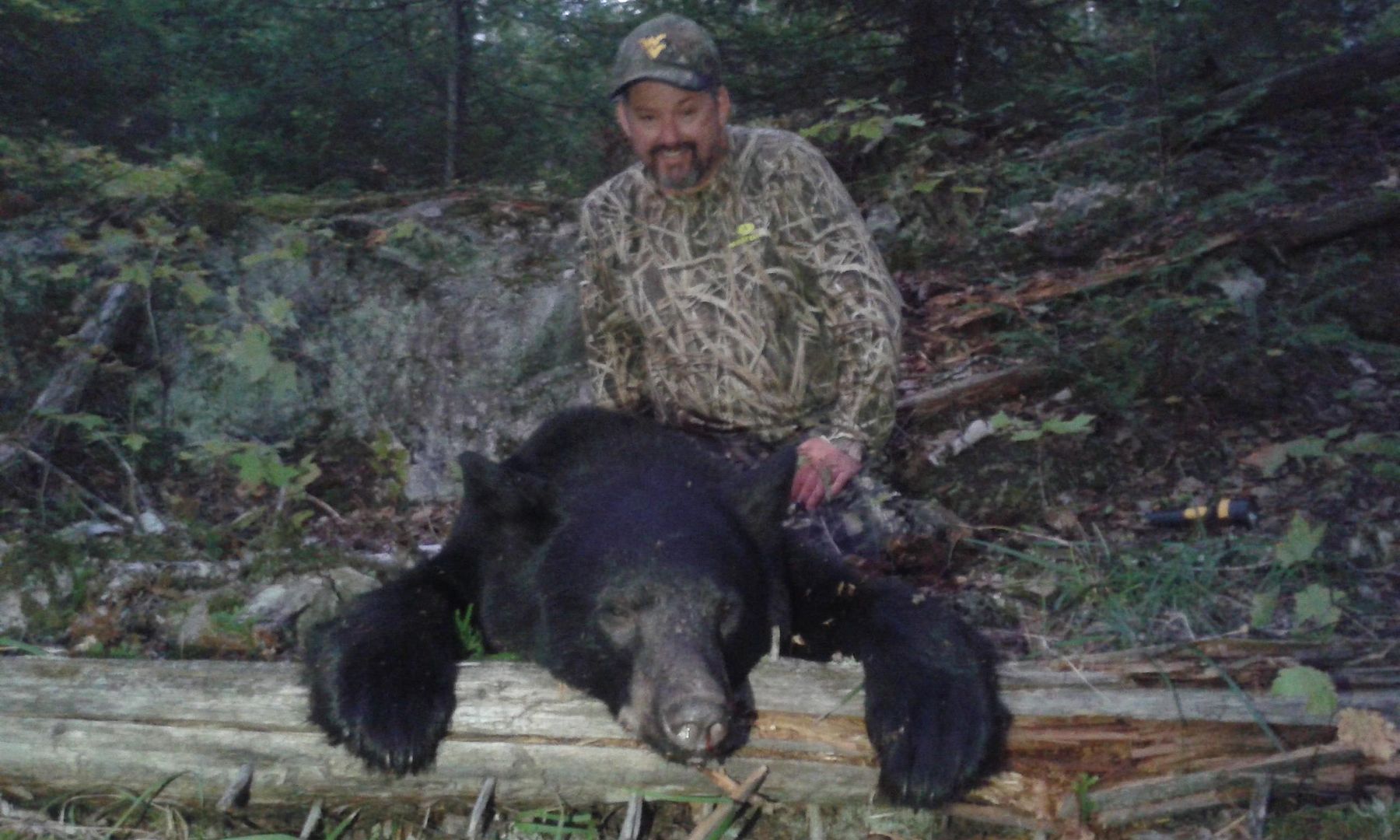 There are three overlapping seasons. You can draw a late season tag much more readily than a first season tag.
The Later seasons are a great time to Tag Out on a Great Bear.
---
The Last Days of Summer are Gone…
But Wait – there is More…
---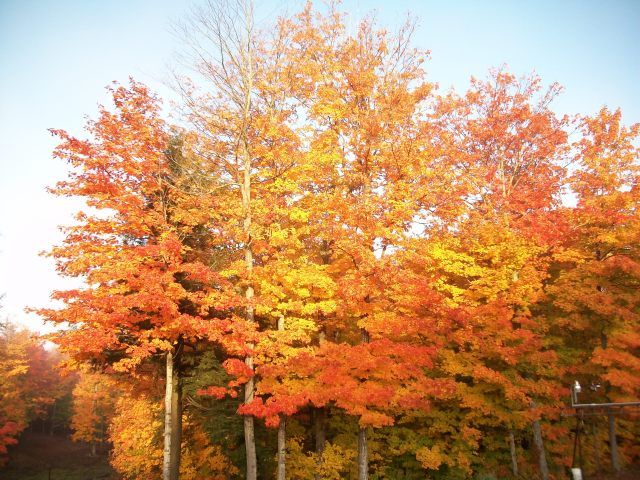 Our spinning planet circles the Great "Ball of Fire" in the Sky as the earth is hurdled through time and space…
Being located North of the 45th Parallel allows for the creation of Four Specific and distinct Hunting Seasons at Bear Mountain.
Good Bye Summer – Hello "Autumn Rut"
---
Welcome to the Autumn Rut
---
Helping others Hunt and Fish is what I believe in…
Being able to participate in a Noble Life while Harvesting the Bounty of the Earth is a real challenge in today's Crazy and Mixed-up world.
The "Big Benefit" is sharing with our Friends and Family members the memories that will transcend our lifetimes and be passed on to the generations that will follow.
Thanks Everyone! for a Super Close to Summer 2015
---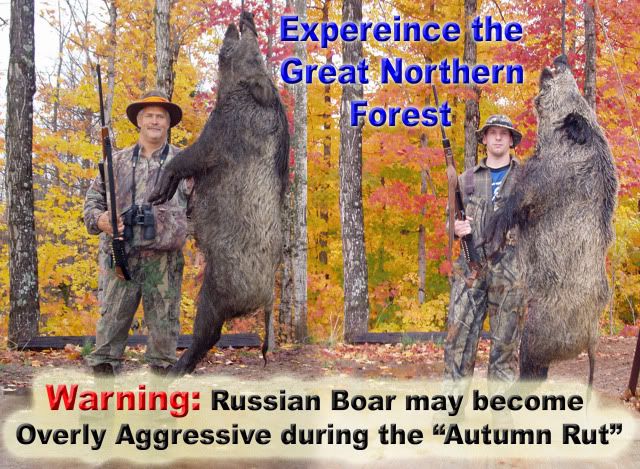 For the Hunter who Wants to Pursue and Slay a Real Russian Boar in their Natural Environment and Native Habitat
* Fully Guided Hunting Adventure During the " Autumn Rut"
* Hardwood Uplands, Dark Cedars, Hidden Valleys, Bedrock Ridges…
* Spot & Stalk, Ground Blinds, Elevated Stands, Still Hunts, Ambush…
* Rifles, Brush Busters, Archery, Muzzleloader, Handgun, CrossBow…
* Secluded Wilderness Fortress – Bear Mountain Lodge!
* Full Accommodations Meals, Snacks, N/A Drinks – Inclusive
And of Course Russian Boar – "Sausage with a Bite"
There are a few "Choice Spots" available for the your "Autumn Rut Hunt"
Connect with me the Moose Man at:
BearMountainQuest@gmail.com
or
You may Call me at (800) 676-9821